💼 Joining the Layoff Network
Joining the Layoff Network
The Layoff Network helps job seekers facing layoffs connect directly with talent professionals who are hiring.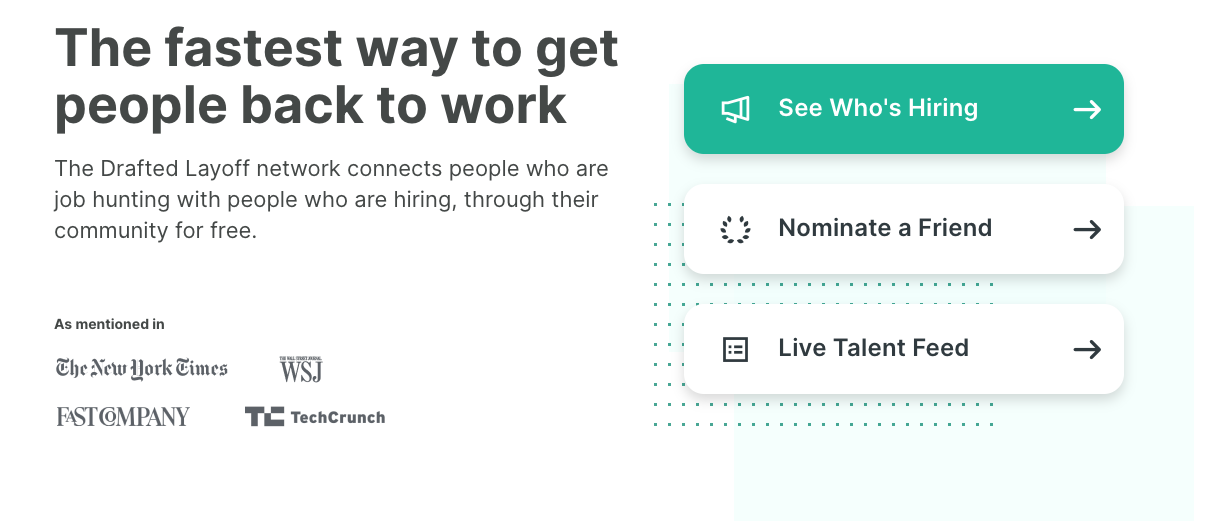 To join the Layoff Network, all you need to do is go to app.drafted.us and sign up.
When you sign up, you'll be asked to choose between three options.
Job Seeker - I'm Looking for a job

Everyone else - I want to help people get jobs

Recruiter - I want to hire people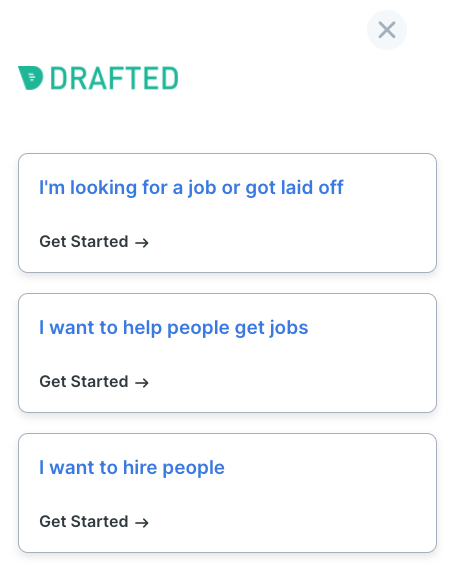 Common questions during signup
I tried to sign up but didn't get the verification email and now I'm stuck.
The most common reasons users ask this question is if
They mistyped their email
The email went to spam
It took Gmail an extra 2 minutes to show the email in their inbox
If you're not one of the above categories, please try the following
Clear your browser and open a new tab
Go to app.drafted.us and try to sign up again with the same email
If this still doesn't work, use the chat at the bottom right of the page to tell us that you didn't get the magic link email
We'll manually verify you and get you going.
How do I change my password?
Drafted uses password-less login. This means that your Drafted account is kept secure without you needing to remember a password. Soon most apps on the web will move to this kind of login.
Instead, you sign in with your Google account, or by clicking a magic link in your email. Pretty cool right?
Are there any strings attached?
There are no strings attached and Job Seekers can sign up completely for free. In order to post jobs and manager jobs on the Layoff Network, recruiters will need to sign up for a company page for only $10 / month. Learn more about how to post jobs on the Layoff Network here.
You can delete your account at any time by just saying so in the live chat on the website. We don't sell your data to advertisers and comply with applicable regulations.
---
---