Editing and Undoing Referrals
Editing and Undoing Referrals
When you submit a referral, it is final, which means that you cannot edit it. If it's just a typo, don't worry, your talent team will understand and it won't affect your friends' candidacy. If it's a more significant error, you can Undo your referral and resubmit, provided that the recruiting team has not already reviewed the candidate.
How do I Undo a referral?
When you make a referral, it is sent to the recruiting team for review. If it has not yet been reviewed and is in the "New Lead" stage, you can Undo your referral and resubmit it with updated information from the My Referrals page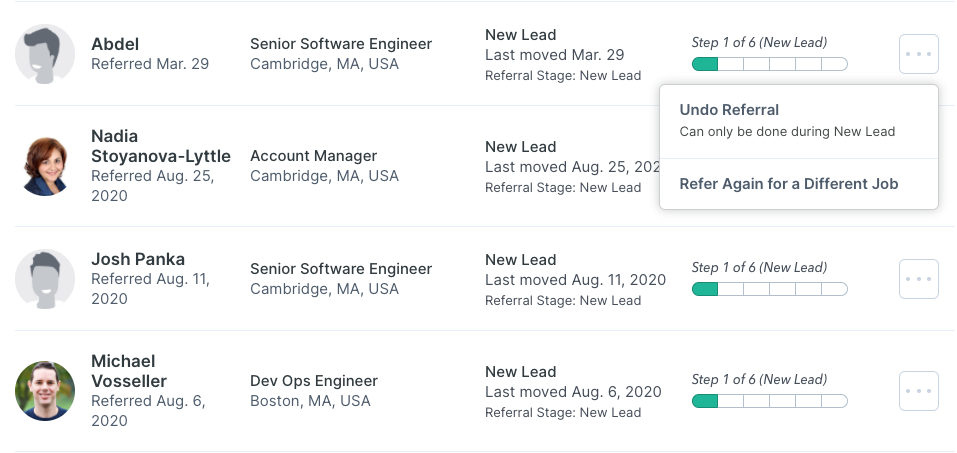 Why can't I edit my referral?
If your company has an Applicant Tracking System (ATS) connected to Drafted, your referrals are sent in there. Once a new referral is put in the Applicant Tracking System, Drafted cannot modify it, since it's already in your hiring process and editing can add confusion for the recruiting team to have different versions in Drafted vs the recruiting system.
If your referral is still in the New Lead stage, you can Undo it and resubmit a new referral. As long as you use the same email for your candidate, the system will recognize it as the same person and make a note for the recruiter about this in their dashboard.
The profile picture for my referral is wrong - what do I do?
Publicly available profile pictures are sourced by Drafted from social media like Twitter. Very rarely, Drafted might find an incorrect picture. If this happens, just use the Live Chat to let us know about it and we'll fix it for you ASAP.
Don't worry, profile pictures are not sent into the recruiting system, so they won't be attached to the application.
---
---