A guide to launching Drafted
To start collecting referrals from your team, you'll need to get everyone at your company on Drafted. Here are some things to think about while planning your Drafted launch.
Send a test referral to iron your workflow
When you announce Drafted you will see a spike in employee referrals for the first few days. Before opening the gates to the real deal, send a test referral to get comfortable navigating Drafted and/or managing Drafted referrals in your ATS.
Prepare the recruiting team
You'll want to make sure that your recruiting team is all on the same page about how to manage the referrals that come in. Here are a few things to consider:
Make sure all recruiters are "following" the jobs they are responsible for. You don't want referrals slipping through the cracks.
If you do not have an integrated ATS, decide which stage you want to move candidates from Drafted and into your ATS (ie once a candidate reaches an interview stage, add them to your ATS). Keep in mind, once a candidate is moved into your ATS, you will need to keep the candidate's status updated in both your ATS and Drafted.
Set goal timeframe to contact new referrals by. Remember, employees can see the status of their referral at any time. If a referral is not acted on in the time they expect, they will be coming to you with questions.
We recommend contacting referrals as soon as possible and no longer than 7 days from submission.
Make sure your referral policy is up-to-date
Once you announce Drafted, your employees will have questions about your company's referral policy. Make sure your policy is up-to-date and contains all the specifics around who is eligible for a referral bonus and when and how referral bonuses are paid out. Once your referral policy is ready, you can add a link to it directly in Drafted under Referral Program so your employees can access it whenever they have questions.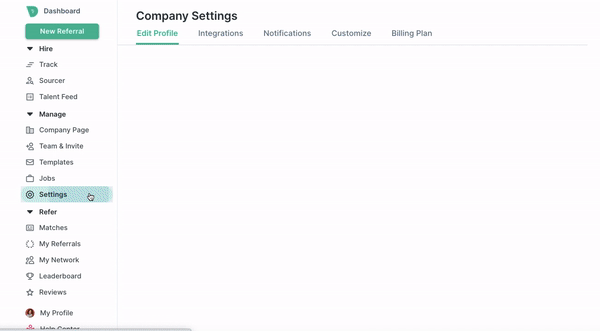 Familiarize yourself with the employee onboarding experience
When employees sign up for Drafted they get sent a welcome email and some step-by-step guides to get up and running in the platform. You can view all of that information here. Employees have a slightly limited view of Drafted compared to a user with Admin or Recruiter permissions. The more familiar you are with their experience, the easier it will be for you to answer any questions they have.
Prepare for questions
We've found that the most efficient way to increase adoption right from launch is to be prepared to answer questions. Some questions are Drafted related, while others will relate to your company policies. It could be helpful to have these answers on hand when introducing Drafted to your company.
Plan your launch
Some companies just send an email to their entire company-base, others have a full lunch and learn training experience. Whatever strategy you decide is best for your team, make a launch plan. Consider the following:
Set a launch date
Will you host a training? Or will employees onboard on their own?
Do you have all the materials you need to educate your employees? If those materials don't exist in our knowledge base, let us know. We are happy to create personalized materials for your team.
Get a seal of approval from leadership. Employees tend to pay more attention when the big boss gives them direction. If you can have your CEO sign off on your launch it will show in your adoption rate.
If someone has a question, who do they contact? Do you have a recruiting team contact? Do you want all questions to go to support@drafted.us? Whatever it is, plaster that support contact everywhere so there is easy access when a question comes up.
Have unanswered questions? Send them over to us at support@drafted.us, we are happy to help you plan a launch customized for your company.
3,2,1 Take off! 🚀
You've done the work and now it's showtime. When launch day comes around, you are prepared for anything that comes your way. Let us know when your launch is happening so we can keep an extra eye on your account and be on-hand for support as your team signs up.
.
Have questions?
Contact us at support@drafted.us or click the blue chat box in the bottom right-hand corner of your screen.

---
---