Greenhouse Integration FAQ
Some of our most frequently asked questions about the Drafted | Greenhouse Integration
Jobs
How does the job syncing work?
Each night Drafted automatically syncs your Greenhouse jobs including job details, department, and job owner. You can manually run a sync anytime from the Settings page

I want to post jobs to collect referrals from my employees, but I don't want them to show publicly. Can I do that?
Yes! Drafted supports internal jobs syncing from Greenhouse. Learn more about setting up internal jobs syncing here.
Can I edit a job in Drafted?
Partially - go to the Jobs page and select 'Edit Job' from the edit dropdown. This will open the job editor. Most of the fields will be locked, but you can edit a few of the fields to be Drafted-specific. These edits will NOT be made in Greenhouse.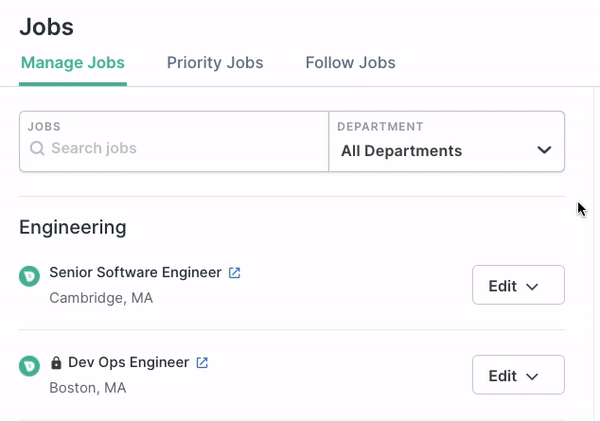 I only want to focus on a few jobs. Can I remove the ones I don't want?
Yes - the Drafted <> Greenhouse Integration supports department syncing. You can pick and choose which departments you want to sync by going to the Jobs page > ATS Job Sync. Toggle off any departments you do not want to display in Drafted.
You can also unpublish individual jobs in Drafted by going to the Jobs page and select 'Unpublish Job' from the edit dropdown. This will only unpublish the job in Drafted. This will NOT affect the job in Greenhouse.
Candidates
Do I have to move candidates in both Greenhouse and Drafted?
Nope! If you have your integration set up fully, you will only need to move candidates in Greenhouse. Any changes in candidate status made in Greenhouse will sync to Drafted nightly.
Referrers are notified via email when their referral reaches new stages in Greenhouse.
How does candidate tracking work?
Once a candidate is sent into Greenhouse, Drafted begins tracking that candidate's progress in your talent pipeline. You can see how this data is displayed to Drafted users on the Track page and the My Referrals page.
What do Drafted candidates look like in Greenhouse?
When a referral is made in Drafted that candidate is automatically sent into Greenhouse as a prospect for the role they were referred for. 
Drafted has the ability to send candidates into Greenhouse as 
candidates
. If this is something you're interested in setting up, please contact 
support@drafted.us
.
Drafted also adds tags to each prospect which reflect how/why the candidate was added.
All prospects get a "Drafted" tag
Referred prospects get a "Drafted Referral" tag
Candidates who were contacted either directly on Drafted or through an introduction on Drafted are tagged as "Drafted Sourcer"
Candidates who are manually imported into Greenhouse are tagged as "Drafted Prospect"
Misc.
Does Drafted delete or overwrite any data in Greenhouse?
No. Drafted can only read existing data and/or add additional data to Greenhouse. Once data is sent into Greenhouse, Drafted cannot edit or delete that data. If you unpublish a job in Drafted, it's only unpublished in Drafted.
---
---