Employee FAQ
Some of the most common questions from non-recruiter employees.
Questions about adding contacts
How do I add my LinkedIn contacts?
You can find our step-by-step guide on how to request and upload your LinkedIn contacts here.
What information am I importing?
Drafted looks at your connection's name, job title, company (and email if it is available). Any other information on Drafted is found through publicly available sources on the internet.
What does Drafted do with my contacts?
Drafted looks at the information above to figure out who would be a good fit for a job at your company. These suggestions are given to you on the "Matches" page.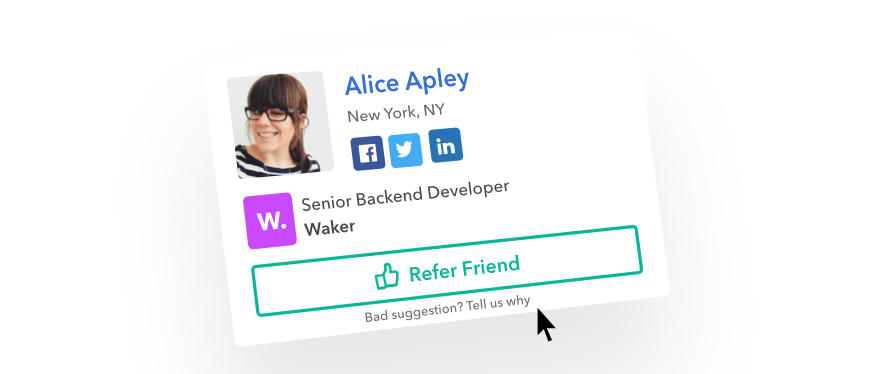 See a suggestion that isn't a good fit? Click "Tell us why" so that we can give you better matches in the future!
Will my connections be contacted by Drafted?
No - there are no automatic opt-ins that spam your address book. None of your contacts get unwanted notifications from Drafted. We treat your data with respect.
Will my LinkedIn connections update automatically?
No - your LinkedIn contact upload is static. To update your network in Drafted with new contacts, you'll need to download a new contact file from LinkedIn. Don't worry, we will send you an email reminder to update your contacts approximately every three months.
I want to make a referral for someone that isn't in my Drafted network. Can I do that?
Yes! You can manually add contacts to your network by:
Clicking "New Referral" in the top left corner of your screen
Typing in their full name
Clicking "Add New"
Filling out the referral form as usual
Questions about referrals
I already submitted my referral, but now I have new information to add.
Currently, there is not a way to retroactively add information to a referral after it has been submitted. To get new information to your recruiting team as fast as possible, send it to them directly.
I'm trying to submit a referral, but the form won't let me progress. What do I do?
Make sure that all of the required information has been filled out on the form. This includes your referral's:
name
company
job title
location
And at least one of the following:
personal email
work email
LinkedIn URL
I submitted my referral and it said that my referral is already in the system. Am I still eligible for the bonus?
Referral bonuses are specific to your company's referral policy. Please reach out to your recruiting team for details.
Will the person I refer be contacted when I click "Submit"?
No -- Drafted does not contact your connections when they are referred. However, when you submit your referral, the recruiting team will be notified and they will be able to reach out to that person directly. Make sure to note in your referral how you'd prefer the recruiters to follow up.
Does my referral also need to apply for the job I am referring them for?
Nope -- Your referral can apply directly if they want to add more information to support their application, but it is not required.
Can I refer someone to more than one position?
Yes! After you submit a referral, they will appear on the My Referrals page. From there you can click the "..." next to their referral and select "Refer Again for a Different Job" from the dropdown.
Have more questions?
Contact us at support@drafted.us or click the blue chat box in the bottom right-hand corner of your screen.

---
---