What makes a good referral?
Now that your whole team is using Drafted, you may be wondering how you can get your referrals to the top of the stack. Here are some helpful tips and common misconceptions to make the most out of your referrals.
Tip -

Get involved in the hiring process.

The last step of your Drafted referral will allow you to choose how your recruiting team reaches out to your referral. Marking that you want to be involved in the hiring process gives your recruiting team an extra edge when reaching out to your referral.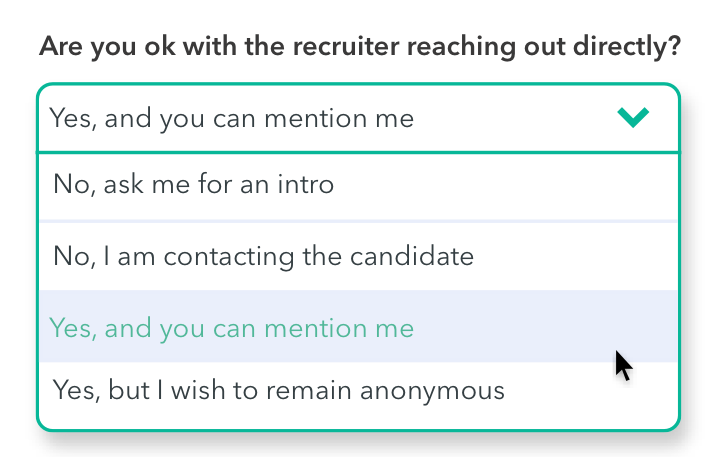 The two best options here are "No, ask me for an intro" and "Yes, and you can mention me".
Myth -

Needing to know the candidate really well.

It's typical to feel like you can only submit a referral for someone you know personally. However, former colleagues, acquaintances from school, even distant family friends are all still excellent candidates. Instead of asking yourself, "How well do I know his person?" try "How well would they perform here?" or "Would they fit in?"
Tip -

Tell the candidate you're going to refer them

The life of a recruiter consists of many unanswered messages. If a candidate knows they are being referred, they are expecting to be contacted by the recruiting team and are more likely to respond. Help out your recruiting team and let the candidate know you're referring them.
Myth -

Knowing if the person you're referring is looking for new opportunities

Not sure if someone is open to new opportunities, but you know they would be an amazing fit at your company? Sometimes the best talent isn't actively looking for a new opportunity. Generally, unless a person just accepted a new position, they are open to a conversation. Maybe it's time for a change, it's worth finding out.

Tip -

Add a resume & genuine referral note

Plain and simple. The more insightful information you can provide on your referral, the more time the recruiting team can save screening the candidate and actually get them in the door for an interview.

Questions? Email us at support@drafted.us
---
---