Managing Jobs FAQ
Here are some of our most frequently asked questions about managing your jobs in Drafted.
How can I edit a job?
Go to the Jobs page and select 'Edit Job' from the edit dropdown. This will open the job editor. Learn more about the job editor here.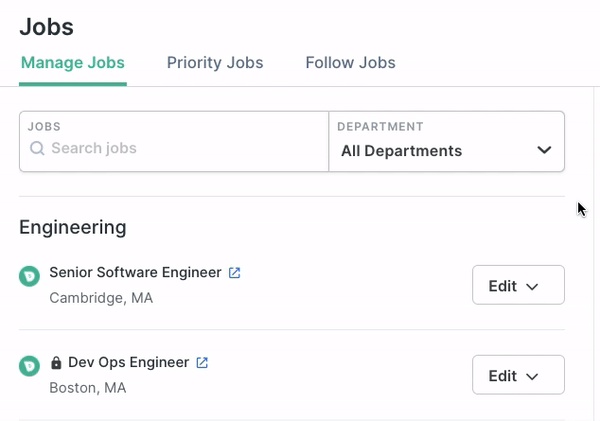 If you have an integrated ATS, some of the fields will be locked from editing. No changes made in Drafted will be reflected in your ATS.
What are internal jobs?
Internal jobs are open roles that only people who work at your company can see.
Who can see internal jobs?
Admins, Recruiters, Managers, and Employees with Drafted accounts for your company.
Who cannot see internal jobs?
People without a Drafted account for your company. (ie. anyone submitting an external referral)
Why can I see my internal jobs on my company page?
If you are logged in to your Drafted account, you will be able to see your internal jobs on your company page. Don't worry, people without a Drafted account for your company cannot see your internal jobs.
How do I know if a referral has been submitted to a job?
You can receive notifications for the jobs you are working on by following them. To follow jobs, go to Jobs > Follow Jobs. Toggle on any of the jobs you want to receive notifications for.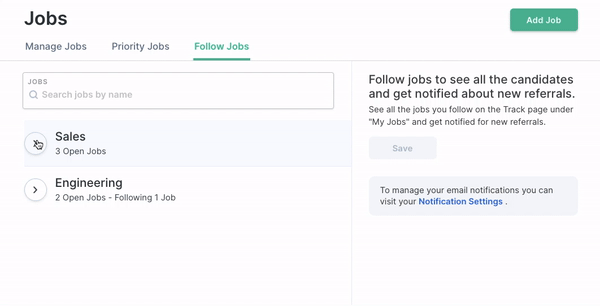 How can I manage the notifications for the jobs I follow?
You can manage your job notifications under My Profile > Notifications under Job Notifications.
I have an integrated ATS. If I un-publish a job in Drafted, does it delete in my ATS too?
No - any changes you make to your jobs in Drafted do not get applied to the jobs in your ATS.
---
---