Adding Your External Referral Program Link to Your Email Signature
How many emails do you send a day? Probably a lot. That makes your email signature the perfect place to spread the word about your external referral program!
Reach job seekers in your extended network
You are probably sending tons of emails whether it's to candidates, coworkers, partners, or cold outreach, - that's a lot of potential eyes on your external referral program. Everyone knows someone that is on the hunt for their next role, adding your referral link to your email signature is an easy way to tap into your network.
Here's how to add it to your signature in GSuite
In the upper right-hand corner of your inbox navigate to the gear icon and select 'See all settings'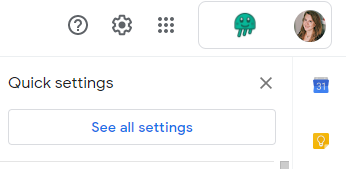 Scroll to the bottom of the 'General' tab where you'll see the 'Signature' section.

Hit 'Create new' or update your existing signature to include a link to your company page.
Hint: If you need help creating your company link for email you can do so by signing into your Drafted dashboard and scrolling down to the create campaign link section 😉 we recommend naming the campaign 'Email Signature' so you can see how much traffic you're driving from your daily emails!

---
---