Getting Started in Drafted
Now that you know what Drafted is all about, let's get you set up and familiar with navigating in Drafted.
Getting started
Your recruiting team will invite you to Drafted.
Click "Join Team" in your invite email, or click an invite link sent to you by someone at your company.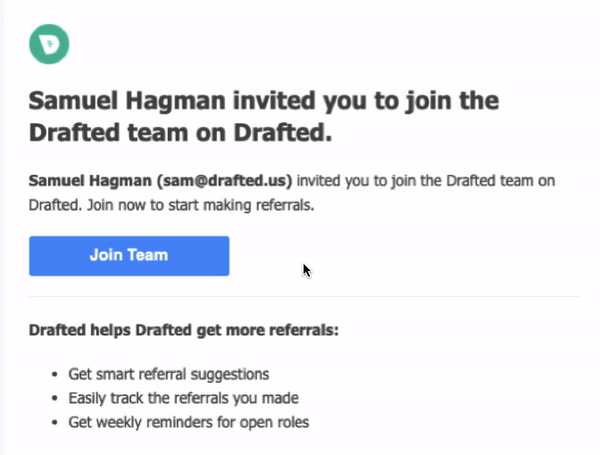 Click "Continue with Google", "Continue with Outlook", or just enter your work email address. You'll need to verify your email with a magic link.
Once you click the magic link, you'll be dropped right into Drafted!
Submitting a referral
To submit a referral, you can click "New Referral" on the top left.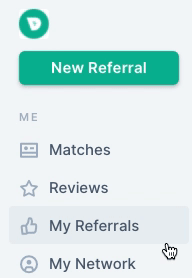 You'll verify their information, answer a few questions, and submit!
You can learn more about submitting your first referral here.
Adding your contacts
To start receiving match suggestions, you'll need to add some contacts to Drafted.
To add contacts, go to "My Network" > "Add Contacts"
There are all different kinds of contacts you can add to Drafted, but the most popular are LinkedIn contacts.
Here is a full step-by-step showing you how to add your LinkedIn contacts to Drafted.
Matches
Once you add your contacts, Drafted will match people that you know to the open roles at your company. These suggestions live on the Matches tab.
When you find someone that is a good fit, you'll click "refer". If you see someone that is not a good fit, tell us why. The more you interact with Drafted, the better the matching algorithm gets!

You will also get weekly match recommendations sent to you via email or slack.
Where to view your referrals
You can view all of your referrals and their current status on the My Referrals tab.

Keep in mind, referral statuses are maintained by your recruiting team. Any specific questions you have about the status of a referral can be sent directly to them.
Have questions?
Contact us at support@drafted.us or click the blue chat box in the bottom right-hand corner of your screen.

---
---