Recruiter's Guide to External Referrals
Hey there! Welcome to Drafted 👋
Your team is starting to diversify your referral pool by including folks outside your organization. Drafted is here to help you receive and manage these referrals in a streamlined process. Watch this quick explainer video to get started 👇
Sign Up
An administrator will invite you to Drafted
Click "Join Team" in your invite email, or click an invite link sent to you by someone at your company.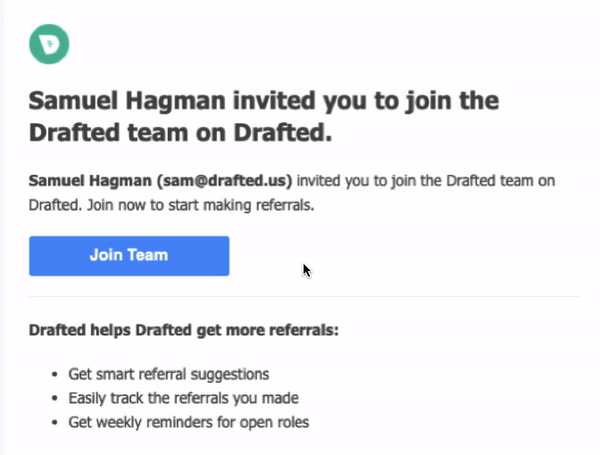 Click "Continue with Google", "Continue with Outlook", or just enter your work email address. You'll need to verify your email with a magic link.
Once you click the magic link, you'll be dropped right into Drafted!
Follow Jobs
The first thing you should do is follow the jobs you are working on.
Under Jobs > Follow Jobs you can select which jobs you want to receive notifications for.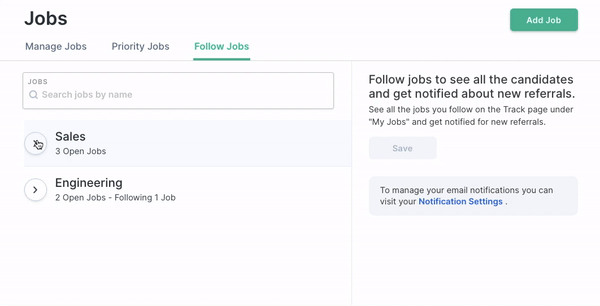 You can manage which notifications you want to receive under My Account > Notifications.
Share your Company Page
Your company page is where people submit referrals to you. Share your company page on LinkedIn, Twitter, and other social platforms to spread the word. Coordinate with your team to Keep in mind, the more visibility your company page gets, the more referrals you will get!
Here are some additional tips and tricks for promoting your external referral program.
Manage Referrals
When referrals start coming in, you'll be able to see them on the Track page. Learn more about managing external referrals in Drafted here.
Have questions? Contact us at support@drafted.us or click the blue chat box in the bottom right-hand corner of your screen.

---
---